Recent News
Attached is a Water Reuse Flyer that explains the benefits and allowable uses of reclaimed water.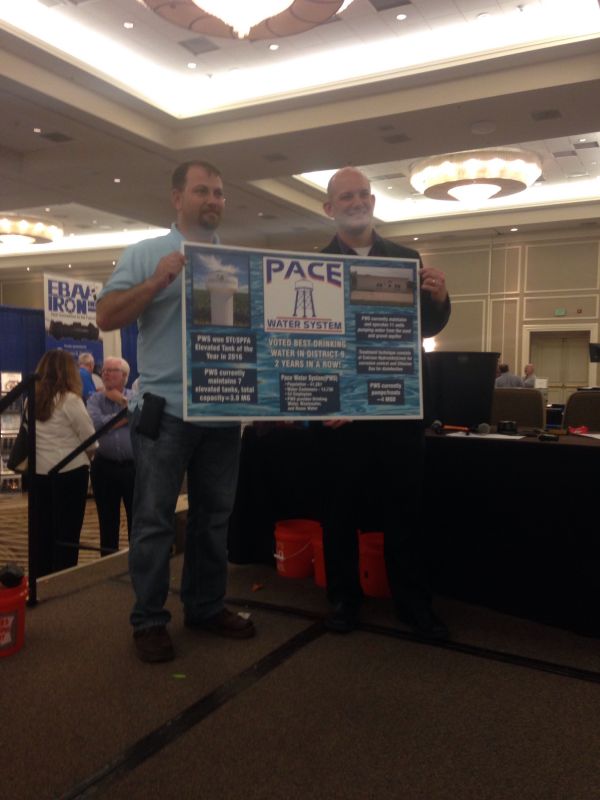 On November 29th, at the Florida Section of the American Water Works Association fall conference, Pace Water System won the coveted title of the People's Choice Best Tasting Drinking Water in...
At the September board meeting Crawford Odom was appointed to fulfill the remaining term of a vacant District 3 seat.
Pace Water System currently has a vacancy for a District 3 director seat. Any member in good standing residing in District 3 is eligible to apply for the director seat. Interested members shall...
Due to the high demand on the reclaim water system, PWS implemented an alternating irrigation schedule for ALL USERS effective May 16, 2016. Attached is the letter that was sent to all users. If...
If you're flushing wipes down the toilet, think again. Not only are wipes 'public enemy No. 1' at the wastewater plant, but they and other non-flushable items also...
On March 2nd, Pace Water System won the "Best Tasting Drinking Water Contest 2016" for Region IX of the Florida Section American Water Works Association. Region IX consists of the western four...
Pace Water System's Tank 11, constructed by Caldwell Tanks and designed by Polyengineering, was recently awarded the Elevated Tank of the Year by the Steel Tank Institute/Steel Plate Fabricators...
On January 12th, PWS upgraded its phone system. While everything appears to be operating correctly, please notify us if you do encounter any problems with the new phone system. Pace Water System...
Many property owners in the area around Tidwell Road and Willard Norris Road have received letters from Santa Rosa County Development Services regarding a proposed Conditional Use application for...
Pace Water System now offers mobile bill payment through our free mobile app. Visit the Google Play or Apple app stores and search for "Pace Water". Use the app to check your balance or pay your...
With the current heat and continuing dry conditions, residents may experience low pressure and at times lack of adequate supply of reclaim water. Currently one supply pump is out of service due...
Pace Water System recently received an "Award of Excellence in Recognition of Utility Billing Accuracy" at the monthly board meeting held on April 14th. The award was given by Water Company of...
On March 24th, Pace Water System won the "Best Tasting Drinking Water Contest 2015" for Region IX of the Florida Section American Water Works Association. Region IX consists of the western four...
PWS is conducting a sign-up drive to encourage its members to utilize both eStatements and bank drafting. Each member that receives an eStatement in lieu of a hard copy statement saves PWS $0.42...
At the December 2014 board meeting, included with the 2015 operating budget, the board approved a water and sewer rate increase effective as of February 1, 2015. This is the first rate increase...
PWS's Fee Schedule was updated on 8/12/14 by the Board of Directors effective as of 10/01/14.  This DOES NOT affect member deposits or member rates.  The updated Fee Schedule can be found on the...
The online payment portal has been updated.  Members now have the option to pay their bill online with or without setting up an account.  Members that choose to setup an online account have the...
As PWS has continued to grow over the years, we have outgrown the capacity of the existing four telephone lines.  Recently we have been made aware of members having issues being able to get...
PWS has recently changed billing software and credit card payment processors to improve system reliability and offer a higher level of customer service to its members.  To make a payment online...
PWS has contracted with Water Company of America (WCA) to evaluate the accuracy of billed water and sewer usage.  If you see anyone around your water meter their uniforms and vehicles should be...
A lot of the advertised "flushable" wipes and other products do not break down like toilet paper and can result in stopped up lines in your home and/or in the sewer system.  For further...
At the January 14, 2014 board meeting, the board voted to move the time of the monthly board meetings up one hour.  Monthly board meetings will now be held at 6 p.m. on the second Tuesday of each...
We are excited to announce that our new website has launched and includes all the information our community needs related to their water service.  Check back often, as we will be adding...